Are you ready for some underwater adventure? The Baby Shark Bubblefong Friends Closed Beta Test is finally here on Quests! The Closed Beta Test will run from March 31 to April 14, giving you plenty of time to explore the game and discover everything it offers.
For those who aren't familiar with Quests, it is a platform that offers a wide range of fun and engaging gaming tasks you can complete in exchange for crypto tokens, NFTs, points, and more.
To participate in the Baby Shark Bubblefong Friends Closed Beta Test, simply follow these steps:
Visit the Quests website and sign up for a free account here.
Open the Quests list and look for "Compete for Top 100 and Win BUSD in Baby Shark".
Click on the Quest and start playing!
Let's look at what you can expect from the Baby Shark Bubblefong Friends Closed Beta Test below:
Daily Attendance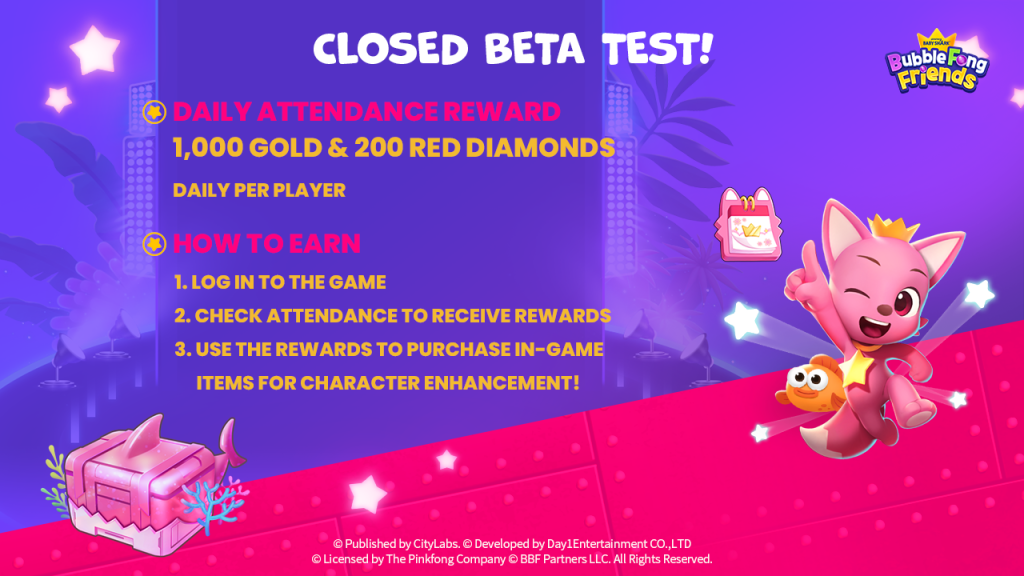 Just for logging in and checking your attendance every day, you'll receive 1,000 GOLD and 200 RED DIAMONDS. These rewards can be used to purchase in-game items to enhance your character's abilities.
Daily Ranking
Join the daily ranking challenge and compete against other players for a chance to earn a portion of 5,000 BUSD every day!
Whopping 70,000 BUSD prize pool
Not only is it a chance to play an exciting new game, but it's also an opportunity to win big!
The total reward pool is a whopping 70,000 BUSD. The top 100 players will receive a portion of the 5,000 BUSD daily rewards daily. That means you could win just by playing the game!
Don't miss out on this incredible opportunity. Sign up for the Baby Shark Bubblefong Friends Closed Beta Test today! Click here to check out the Quest.